The racing car designed by the Faculty of Technology has repeated its result from last year. The DE MK Team finished 29th out of 147 contestants at the Shell Eco-marathon Europe energy efficiency contest held at the Queen Elizabeth Olympic Part in London on July 5-8.
This has been the third time the Faculty of Technology of the University of Debrecen has participated in an international contest with its energy efficient vehicle of its own design, which finished 29th in the prototype category with a result of 98 km/kWh. The four races were not free from anxious moments as the car was involved in a collision in one of the test runs but were able to continue the race.
- This year a great number of first-year students joined the team, who were enthusiastic thoughout the time, and I am very proud of them and their achievement in the contest. The fact that we met the technical requirements and were allowed to participate in the next competiton made the invested energy worthwhile, said Attila Magyari, team leader.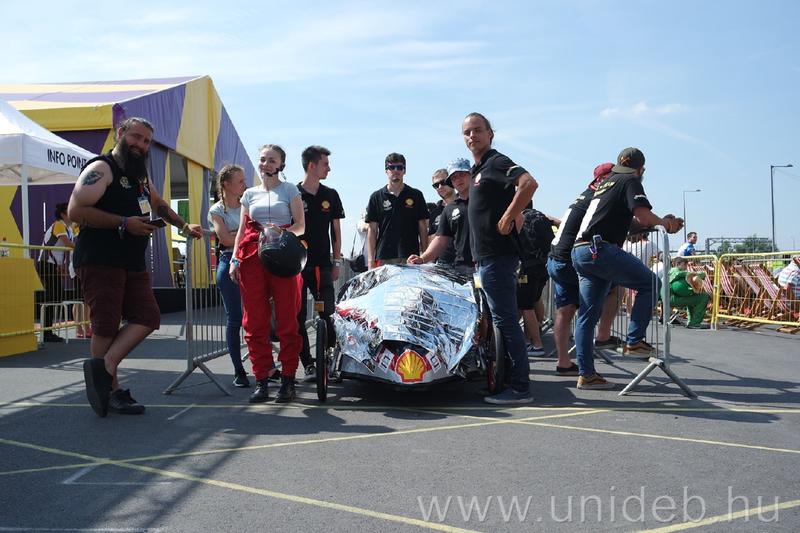 The competition represented a real challenge because we had to perform 15 laps on a 945-meter-long street circuit using a singly litre of fuel or 1 kWh of electric energy to drive the vehicle. The cars had four runs and the best was taken into consideration by the organisers.
This year three teams, two university and one secondary grammar school teams, participated in the competition. The SZEnergy team of the István Széchenyi University entered with their electric vehicle in the city concept category. The students of the University of Debrecen and of KSZC Kálman Kandó Vocational secondary school competed in the prototype category.
The Shell Eco-marathon competition was held within the framework of the Future LIve Festival, the festival of science and innovation. It also provides a platform for the next generations for people working in the fields of science and engineering so that they can present, implement and try out their latest ideas.
Press Office