On 27-28 September, the Faculty of Engineering organised a two-day international conference for Central European university instructors and researchers in the field of building engineering and energetics. Debrecen served as the venue for the International enviBUILD 2018 programme for the first time.
Delegates to the international conference, mostly architects, building engineers and experts in the field of building energy efficiency, arrived from six countries. The topics in the focus of the conference were the relationship between buildings and their environment, energy use, comfort, as well as building materials. Before Debrecen, the conference was held in the cities of Bratislava, Brno and Vienna.
"The primary purpose of the event is to become familiar with the latest academic findings, but in addition to the exchange of experiences, it also provides an excellent opportunity for networking with professionals from nearby countries", Ákos Lakatos, organiser and the deputy chair of the Department of Building Services and Building Engineering, told the hirek.unideb.hu portal.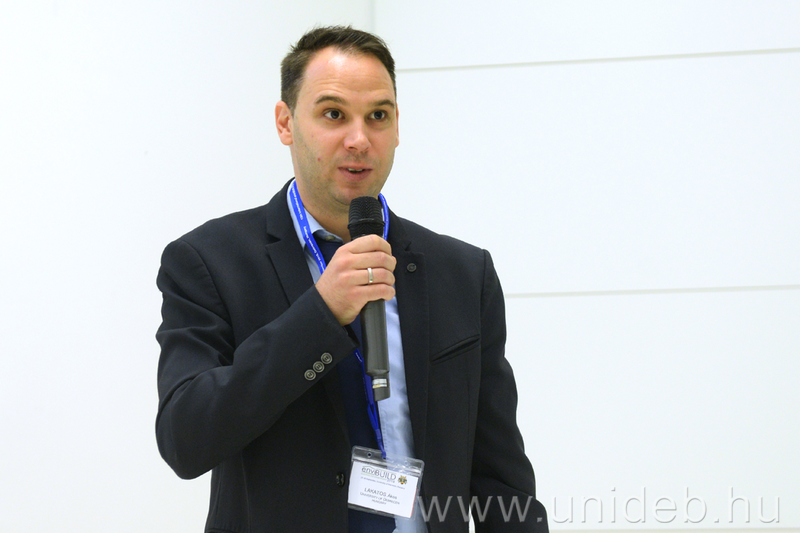 Over the course of two days, almost 30 papers were presented in English. In addition to the theoretical programme, there are also practical demonstrations, including, among other things, on new applications and how they can be used in everyday life. Current research on buildings of environmentally conscious design primarily concentrates on the use of building materials that cause the least amount of environmental loads.
The participants of the programme were welcomed by Ferenc Kalmár, deputy dean for academic affairs at the Faculty of Engineering.
"The fact that the University of Debrecen has won the right organise this conference is proof that the high quality of teaching and research efforts conducted here is also recognised by the profession internationally," the deputy dean emphasised.
Press Office